About Robert: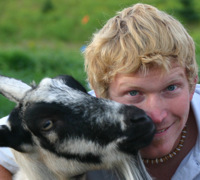 Robert was born in Germany in 1982. Back home Robert grew up with dogs. At an early stage he developed a lovely bonding to them and he quickly learned how to handle animals in a fair and gentle way. After graduating from High School he studied business administration at the University of Passau.
Robert started riding at the age of 18, but horses quickly became his passion. In Germany, he became acquainted with the new alternative and gentle way of riding. He completed his riding instructor and horse trainer diploma in only two-and-a-half years and emerged as one of the best in his class.
In October 2005, he bought a large farm in Goshen, the heart of Nova Scotia. This picturesque farm has rolling hills, lakefront and old maple woods. It is the perfect setting for a riding facility.
Robert is undertaking the new horse management course at the Nova Scotia Agricultural College in Truro and he is a member of the NSAC Woodmen Team.
"My dream is to offer people a gentle and safe way of handling and riding horses. My goal is to establish trekking on horseback as an alternative to shows."